---
Recent News
The Serbian Orthodox Church to Her Spiritual Children at Pascha, 2013
IRINEJ


by the Grace of God

Orthodox Archbishop of Pec, Metropolitan of Belgrade-Karlovci and Serbian Patriarch,
with all the hierarchs of the Serbian Orthodox Church - to all clergy,
monastics, and all the sons and daughters of our Holy Church:
grace, mercy and peace from God The Father, and our Lord Jesus Christ,
and The Holy Spirit, with the joyous Paschal greeting:
Christ is Risen! Indeed He is Risen!

Српска Православна Црква својој духовној деци о Васкрсу 2013. године
ИРИНЕЈ


по милости Божјој

Православни Архиепископ пећки, Митрополит београдско-карловачки
и Патријарх српски, са свим архијерејима Српске Православне Цркве,
свештенству, монаштву и свим синовима и кћерима наше свете Цркве:
благодат, милост и мир од Бога Оца, и Господа нашега Исуса Христа,
и Духа Светога, уз радосни васкршњи поздрав:
Христос васкрсе – Ваистину васкрсе!
Articles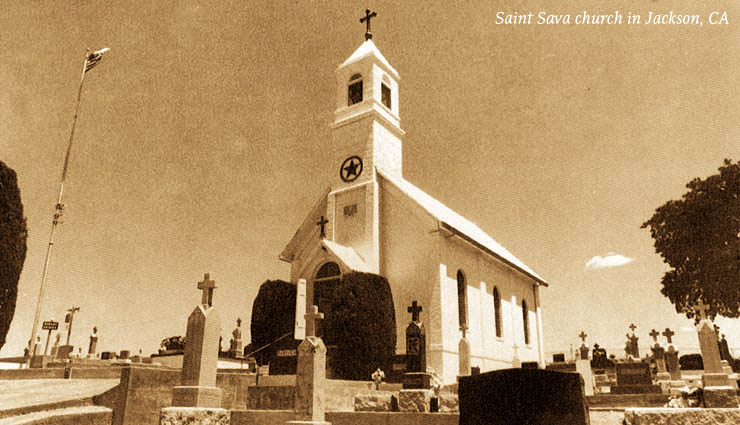 Serbian Jackson - Amador County from Gold Rush days to modern times
Jackson is the county seat of Amador County, California, situated in the Sierra Nevada foothills at the junction of highways 88 and 49, 50 miles southeast of Sacramento. Immigrants from the Yugoslav region originally settled in this Mother Lode region during the California Gold Rush and ever since, a prominent Serbian American community has resided there. This article will focus on Serbian American contributions to Amador County over the past century and a half.
Because most of the material in the paper was based on personal interviews with members of the Serbian community in Jackson, some of the following story will be told by those interviewees. In the past 20 years people of Serbian background have been denigrated in the popular culture and scholarly works, largely influenced by the demonization of Serbs before, during, and after the Yugoslav wars of the 1990s.
In this article I will begin by discussing the methodology used in my research into the community. Next, I will highlight contributions made by the Serbian community in California between 1850 and 1900 and those of Serbian American women during the major part of the twentieth century. I will note contemporary contributions of Serbian Americans, discuss the image of the Serbian American community, and explore major issues facing Serbian Americans in Amador County today. Finally, I will introduce some questions for future research.
---